What do you think of when you hear the term 'racing'? While that answer is vastly different for everyone, we've all thought about it at some point. It's easy to follow that thought with a litany of excuses as to why we shouldn't do it. The reality is that there are lots of reasons to do it, and TrackDāz can help you make that transition from 'rider' to 'racer'.
So, let's just get it out there: what are some of the common myths and misconceptions about racing?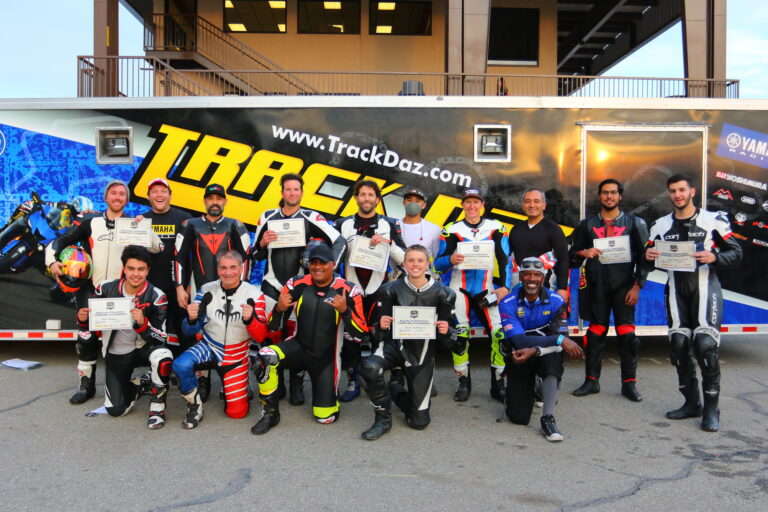 I'm too slow. Racing is only for really fast people.
If everyone thought this, we wouldn't have very big grids. The fact is, the skills range of riders is larger than you might think, and that's a good thing! You may not be winning races or standing on the podium during your first race weekend, but you will have people to race with. It's common knowledge that racing will make you a better rider, and it will also make you a faster rider in most cases. In a race, you'll learn things about you and your motorcycle that you'd never be able to learn otherwise.
I don't have a good enough bike to go racing with.
If you have a bike that is in safe working order, then you have a bike that you can race. There are classes for all kinds of different motorcycles, displacements, engine configurations and more. There's even a separate grid for riders over 40! You may need to make a few extra provisions to your motorcycle before it is ready to hit the grid (e.g. safety-wiring, belly pan installation), but these items are fairly basic and easy to do. There are also a lot of resources out there to help you with any requisite bike prep.
I'm too slow. Racing is only for really fast people.
Racing isn't any more dangerous than a track day. At a race, you're always on the track with riders of a similar skill level and with a similar bike. Practices are typically segregated by lap times or skill level, and qualifying and races are grouped by your competition license type (Amateur or Expert) and your bike type. Unlike a track day, you can be sure that all of the riders on the track have a certain minimum level of experience and competency.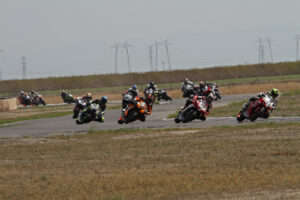 Racing is expensive.
Racing can be expensive, but it doesn't have to be. It certainly gets expensive if you convince yourself that you need that quickshifter, auto-blipper, carbon fiber wheels, motor work, etc. However, you'd be surprised what even a stock bike would do. Make sure your suspension is setup well for your weight and throw on some good tires. It's not any different than what you would do for a track day. The extra money that you save and put towards race fees will make you a better rider than that titanium exhaust system that you were going to buy.
So, what's your excuse for not racing? When you're ready to make the jump, TrackDāz has you covered with our New Racer Orientation (NRO). The NRO is run during several of our events at Buttonwillow Raceway Park. During the NRO, you'll learn about the rules that are specific to racing. This content ranges from flags, racing-specific procedures, gridding and more. You'll spend time on the track with some of our highly qualified instructors, and you'll have classroom sessions with them in between for discussions. At the end of the day, you'll participate in a mock race and will have the opportunity to make your first race start! Upon completion of the NRO and the new racer race, you'll receive a certificate that can be used to obtain a amateur competition license to race the with the California RoadRace Association (CRA). Your CRA license may also be transferable and recognized by most other racing organizations in Southern California.
To sign-up for the TrackDāz NRO, simply select the date for the event that you want to attend, and sign-up for the NRO group. If you're still on the fence about racing, feel free to chat with a member of the TrackDāz staff during one of our events. We'd be happy to answer any questions that you might have, and we can also give you more direction and advice on how to get started.


Note: TrackDāz NRO is NOT intended for riders who are new to the track. This is for experienced trackday types whom are looking for something more. We require a minimum of 5 students to perform the school.