Track-specific gear can vary from what you might ride with on the street, but some of this stuff you might already have! Moving from top to bottom, here is what is required in order to ride on the track.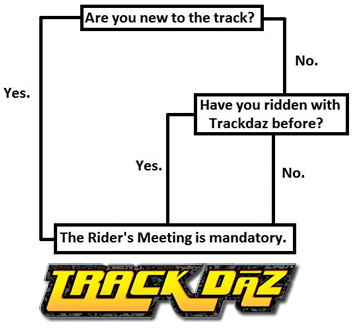 Should you attend the Riders Meeting?
What time does the gate open?
Typically the gates are open by 7:00am


What time does registration and tech inspection open?
Typically at or around 7:00am


When does the rider's meeting start?
8:00am is the start of our Rider's meeting (we also do a Zoom version)


When do bikes go out on track? and What order?
9:00am is the typical start time for an event. We place them in order of A/B/C.


Is there a break in the schedule for lunch?
We typically do not break for lunch at TrackDaz events. If you need to grab something to eat, there is plenty of time between sessions to do that. There are certain events that require a lunch break, and we'll announce those in the riders meeting.


How long does the day go?
We typically run our events until 5pm unless otherwise noted.